Bar Admissions
Connecticut
Massachusetts
New York
U.S.D.C., District of Connecticut
U.S.D.C., Southern District of New York
U.S.D.C., Eastern District of New York
Education
Roger Williams University School of Law

J.D. May 2010, Magna Cum Laude; The Roger Williams University Law Review CALI Award, Highest Grade in: Legal Methods II, Constitutional Law I, Environmental Law, Business Organizations, Secured Transactions, Labor Law, Interviewing & Counseling, and Mediation

Clark University

B.A. Philosophy and Psychology May 2007, Magna Cum Laude
Bio
Paul Grocki focuses his practice primarily on litigation, insurance, and aircraft transactional matters. He represents purchasers and sellers in the buying, selling, and financing of aircraft of various sizes, including creating and registering holding entities, minimizing sales and use tax, and federal compliance issues. Paul also represents aircraft owners and fixed based operators (FBOs) in connection with the negotiation of management and charter agreements. He also represents FBOs in the negotiation of various types of ground leases and commercial real estate transactions. Further, Paul represents individual pilots and businesses in administrative proceedings, including certificate revocations, proposed certificate actions, and proposed civil penalties. Paul also represents clients in appellate matters before the Connecticut Supreme Court and the Connecticut Appellate Court.
Prior to joining the Law Offices of Paul A. Lange in 2014, Paul worked for a mid-size insurance defense firm. He defended clients though trial and appeal in matters involving professional liability, particularly in the areas of legal malpractice and medical malpractice. Paul also counseled a large health care provider concerning state and federal privacy laws, involuntary commitments, rendering of involuntary medication, and conservatorships. He independently interviewed and counseled employees of said healthcare provider in advance of their proffering testimony at murder trials. Paul has extensive motion practice, including drafting and oral arguments of numerous motions to strike, motions to dismiss, and motions for summary judgment in state court as well as on the complex litigation docket. Before entering private practice, Paul served as a law clerk to the Honorable Robert E. Beach of the Connecticut Appellate Court.
Paul graduated Magna Cum Laude from the Roger Williams University School of Law in 2010. While in law school, he received 8 CALI awards, served as a member of the Roger Williams University Law Review, served as a Judicial Extern for Chief Justice Paul A. Suttell of the Rhode Island Supreme Court, and completed an internship with the Connecticut Division of Public Defender Services. He received his Bachelor of Arts degree from Clark University in 2007, where he was inducted into the international honor society for philosophers.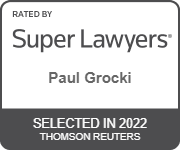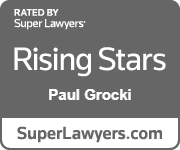 *The Super Lawyers designation is based on regional balloting by attorneys, third-party research, and a peer review process encompassing myriad practice areas. Paul was named a Rising Star in Connecticut in 2018-2022 for Aviation and Aerospace. An explanation of the Super Lawyer methodology can be found here.
Publications
Speeches
Webinar: "Tools for FBO Survival of COVID-19," presented virtually (April 9, 2020)